The shower is a very pleasant thing for most. She can wash the dirt and exhaustion of me, an activity that can relax me. Therefore, the requirements for showers are also relatively high, so what aspects should be paid attention to when buying showers?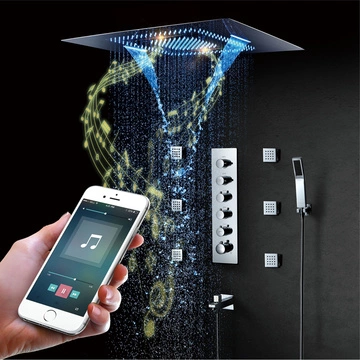 Fixed shower
As a kind of berlin, showerheads first appeared in our eyes is this fixed model. This fixed shower style is favored by pragmatists because of its simple structure and single and reliable function. Moreover, this type of shower is usually simple and avant-garde, so it is also very suitable for creating highlights for your bathroom.
Hand shower
Compared with the fixed top showers that Europeans like, due to the difference in life style and usage habits, many Asian families are generally not suitable for fixed showers. They prefer a flexible and compact handheld shower. From the structural point of view, the hand-held shower structure is more compact, and the layout is more casual, suitable for the needs of small bathrooms in most Asian families.
Combined shower device
If you feel that the above two modes are too simple, you want to give full play to the shower. Then, we can only choose a combined shower system with more diverse functions. However, in view of space and demand, this type of device is also divided into two types of combined devices and autonomous configurations. The most common combination shower device is a double shower combination that combines a top spray and a handheld. And if we plan to enjoy the bathing feeling of large flow, we can choose a multi-jet shower column (screen). Generally, this type of shower column contains multiple spray heads in various directions from top to bottom, which can provide users with a full range of flushing.
Water flow of Shower Head
1. The large format fixed shower which is very popular now belongs to this type. Its design imitates the soft and delicate light rain in nature, so that users can get a feeling of returning to nature. For hand showers, there is also a way to achieve this relaxation. That is, the champagne foam added to the air comes out of the water. The water flow generated by this shower design is delicate and soft, and it also has a good water-saving effect.
2. Compared to relaxation, some people like to stimulate. This need is similar to a massage after fatigue. Therefore, there are different types of spray type, lasing type and massage type corresponding to the shower water discharge method. Regardless of the name, the sensation they bring is a relaxing body massage.
3. Waterfall type, water column type shower head. This kind of shower is suitable for those who seek individuality and self-sensation. Of course, depending on the ability of the individual's body to bear, these showers will also have a strong waterfall flow and meticulous mountain streams.
Shower head assembly and control
1. Constant temperature control: The principle of the constant temperature faucet is that it can instantly stabilize the temperature of the shower water at a set value and keep it unchanged. This avoids the trouble caused by sudden changes in shower water temperature.
2. Water diversion component: choose a perfect water diversion component. This assembly is called a "thermostatic spool". This spool can ensure that three shower heads operate at the same time, and the flow temperature is unchanged.
3. Surface mounted and concealed: The surface mounted showers are basically ready-made products. Common shower lifting rod sets, and shower columns (screens) are such products. The concealed suit is suitable for consumers who pay attention to decoration and freedom. However, it has high requirements on the design and hardware in advance, and it is not easy to change afterwards.
4. Manual and electronic: If it is more exquisite shower design, we will also involve more technological components. This is also an important part of the so-called "smart bathroom". In addition to the common manual control elements, there is also a more sci-fi electronic control system. This system is similar to a miniature bathing computer, which can be controlled by a touch screen, the type of shower water, temperature, lighting, and even music.
HIDEEP Shower Mixer,Bath Shower Mixer are constructed of high grade brass for durability. Capturing the elegance of a bygone era, the HIDEEP exposed shower mixer are reminiscent of old-world design.